We have a mild obsession with Lego in my house. OK… we actually have a BIG obsession with Lego!
Lego is an important part of our every day life – we play with it, play Lego video games, read books about it and talk about it constantly! We have annual passes to Legoland Florida and we even have a Lego themed bathroom!
I've talked about our Lego obsession before when we build our Lego Fidget Spinners! I have to say that's still one of my favorite kid activities and we often try to see if we can improve the design.
My children inherited my obsession for Lego and I got it from my older brother. We have over 40 years worth of combined Lego collections, so that means we have to find a way to store it all! We literally have 100s of sets, however most of them are no longer in their boxes and are all mixed up together.
I'm also a bit of a neat freak about things at home (check out my Fast Cleaning Tips for ways to keep your house clean and tidy when you are short on time!). So finding neat and effective Lego storage ideas is always a constant battle. Over the years I've tried many different methods to keep the Lego organized – everything from giant bins to sorting it by color and size in tiny drawers!
I have to say that I don't think there is a perfect solution. As the children grow older the way we play with the Lego has evolved, so our storage method has to evolve too.
Below are a few of my favorite Lego storage ideas from around the internet. Some are for large collections and some are for small. Some for experts and some from children.
---
Sort by Color
The first of these Lego storage ideas is perfect for kids who like to experiment and build their own creations.
Stephanie at One Mile Home Style organized her sons' Lego pieces by color in plastic 3 drawer containers.
She put the drawers in a cube unit and this also gave her sons' a place to display their creations.
One REALLY nice touch is her display of Minifigures. The actual Lego pieces aren't the only thing that needs to be stored and organized, so do the Minifigs. Stephanie used an old printers typesetter tray to display them. Practical and decorative!
---
Smaller Scale Storage
If you are just starting out your Lego collection or want a more compact way to store them – why not try shoe storage bags.
Holly at Kids Activities Blog hung a pocket shoe holder up on the wall. Each pocket holds a different colored pieces.
I love this idea because it takes up virtually no space and is perfect way to make use of value vertical storage space!
This is a great solution if you are tight on space but still want the Lego pieces and be easily accessible.
---
Hidden Storage Solution
The larger your Lego collection, the harder it is to store and keep under control!
I often wish there was a way to hidden all our Lego pieces and under bed Lego storage ideas are a perfect solution! This one from Krista at The Happy Housie is great!
Photo Credit: The Happy Housie
Using some wood, screws and wheels, they were able to create this amazing rolling under bed storage container. This is a great idea of all kinds of toys, not just Lego.
I like that this a completely customized solution. You can design the unit to have the number of compartments you want and the exact sizes you need! Awesome!
At the end of the day you can just scoop it all up off the floor and back into the container.
---
Sort by Set
Some children (and adults!) prefer to keep their Lego organized by set instead mixing all the pieces together. This is a very practical solution if you don't have too many sets (once you get over 100, there just isn't space to store all the boxes!).
Megan at The Home I Have Made has a wonderful method of keeping her two sons' sets together. I have to say that I am a tad envious of how pretty and organized her sets look!
She used simple snap-top containers and added labels to the front of each box. Not only did she put the name of each set on the label but also a photo and the set number.
The set number is very useful in the future if you were to ever lose the instructions, as most instructions are available online now.
These containers also have space to keep the instruction manual with the set which would be a big time saver when you are ready to play with the set again.
---
Play Table and Storage
There are a lot of ideas all over the internet for combination Lego play tables and storage. Most of them use the LACK tables from IKEA, because they are cheap and easy to customize!
This is one of my favorite combinations from Kate at Centsational Style. I love it because it uses the larger LACK table with the shelf beneath it. This gives more space to store more Lego and more space to play with it!
The road base plates for the top of the table are a nice touch if you have a lot of Lego City sets. Alternatively you can use regular base plates. I like to have just half the table covered in plates, so there is still space for building on a smooth surface.
---
Lego Tray
This isn't really a Lego storage idea, but it does help keep everything contained when your little one is playing. No more treading on Lego pieces in the middle of the night!
Amber at Busy Creating Memories made this gorgeous play tray for her daughter, Jade. She can use it in bed when she's sick, on the sofa or just on the floor.
Such a great way to keep everything together and stop the pieces getting lost.
I could even see this being useful in the car on long journeys!
---
Lego Storage and Desk
If you're looking for something with a bit more space than a tray or coffee table, why not check out this combination Lego storage system and desk.
Michelle from The Mommy Blog made this amazing adjustable desk with 2 storage towers at each end.
The basic components for this are from IKEA, but Michelle customized it so that there is a desk between the storage towers that is also height adjustable! The desk can grow with her son!
She organized the Lego in the bins by theme (e.g: police, Star Wards, pirates etc) and labeled each bin.
Labeling bins and boxes is a very important way to help kids keep themselves organized. If the drawers are labeled they are more likely to put the toy away in the right place, instead of just stuffing it all in the first drawer they find!
---
Lego Display & Storage
Organizing your Lego collection isn't just about the pieces but also about the sets once they are finished.
In my house we have a lot of shelves on the walls in my children's bedrooms to display their collections.
We even have shelves in our bathroom (it's Lego themed!) to show off some of the sets that aren't played with as much.
My eldest son's collection has been growing a LOT lately (it's the only thing he asks for at Christmas and birthdays!). So we've had to add even more shelves to his bedroom this weekend! He really challenges me to find new Lego storage ideas!
We also use these Minifigure display cases for all our little guys! This one houses our Batman Movie minifigure collection. The added bonus is that it keeps the dust off of them!
---
Bins and Containers
There are various bins and containers that Lego produce to store all your pieces and minifigures.
I use large Sterlite plastic drawer units to hold some of our loose Lego pieces. When we want to play with it, we pull the drawer out and dump it onto a large table cloth that's spread on the floor. When we are finished playing, we scoop up the table cloth and pour the pieces back into the drawers. Quick and easy!
The Lego website is full of awesome ideas, such as these stacking brick shaped containers. These would look amazing in a Lego themed bedroom or playroom!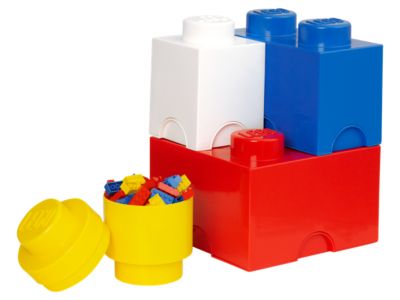 This minifigure display case is another one of my favorites. I'm all for anything that keeps the dust off the Lego! Dusting Lego is a thankless task!
This case takes 16 minifigs and can be wall mounted or sit on a shelf or desk.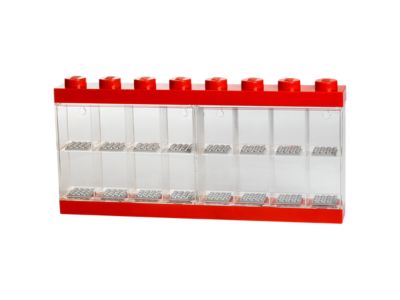 This is one of my FAVORITE Lego storage ideas! It's a drawstring play mat available on Amazon for less than $15.
You lay it out on the floor when you want to play with your Lego. When you are finished you pull the drawstring and all the Lego pieces and neatly collected inside! Genius! So quick to clean up!
And the best part of this particular design? It also converts into a backpack! Perfect for your little one to take their Lego collection to Grandma's house!
---
Extreme Lego Storage
Lego isn't just a kid's toy. In fact in my study (where I am sat right now!) we have a number of sets that the children are not allowed to play with (without supervision anyway!).
Jeffery Pelletier is an architect who has one of the most amazing Lego ROOMS! Yes… his collection is so large it has taken over an entire room of his house.
He used a combination on IKEA storage and custom cabinetry to house all his pieces. They are sorted by color and type. He even has an entire drawer just for mini Lego food pieces!
When I watch this video I just think what a shame it is that I live in Florida and we don't have basements here! Other, I would really have to do this!
---
Lego Storage Ideas
Here are some of the products that I have mentioned during this post. Why not take a look and see which one will suit your needs best?
How do you store your Lego sets? What Lego storage ideas do you have? Comment below – I'd love to hear your ideas.